A renowned and internationally awarded real estate agencyl
Recognized worldwide, the European Property Awards are the most important and prestigious awards for the real estate sector. During the last 4 years, Immo Partner in Troisvierges has been rewarded no less than three times. Three times "Best real estate agency in Luxembourg". A significant recognition for us, members of the Immo Partner Team! It symbolizes our desire to always push the limits of innovation and service, this desire that allows us to offer excellence to our customers. The advantage of our agency over its competition? Unparalleled customer service.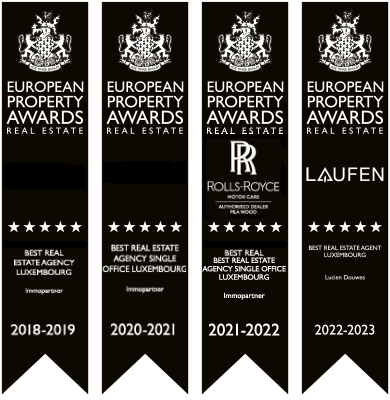 The European Property Awards
The European Property Awards are judged by an independent panel of over 80 industry experts. Judging focuses on design, quality, innovation, originality, customer service and commitment to sustainability. They are one of the regional competitions of the International Property Awards, the ultimate competition for real estate professionals. A competition founded by Stuart Shield in 1993, to reward exceptional real estate firms, whose work impacts millions of daily lives. As a result, only the winners of the renowned Award have the right to use the competition logo, a guarantee of excellence and recognition by colleagues in the real estate sector.
A word from Lucien DOUWES, Managing-Partner of Immo Partner.
"Over the past 4 years, we have been voted best real estate agency in Luxembourg 3 times.
The limits are pushed forward every single day and we do not give up on the excellence of our customer experience, in this challenging environment, customer service has always been, and always will be, one of our key competitive advantages.
The deepest recognition goes to my team who have supported me and the company in its phenomenal success over the past few years, "Thank you for motivating me to continue to have the highest level of dedication in this work."
For its integrity and high-end services, Immo Partner is recognized as a real estate agency symbolizing excellence. A reputation confirmed both by its clients and by the most eminent real estate professionals, as these regular awards at the European Property Awards demonstrate. It is with undisguised pride that we highlight this guarantee of quality, which drives us to improve the quality of our service again and again. For this, we need you, your real estate projects, your trust. Immo Partner is happy to count you among its clients, for ever more remarkable real estate projects.